Fallen Stallion
Here are the stables for all of Pristine's "Fallen Stallion" horses. The ranch she hales from is "Forlorn Mists", and it is a place quite hospitable to many mares and stallions, despite the foreboding name.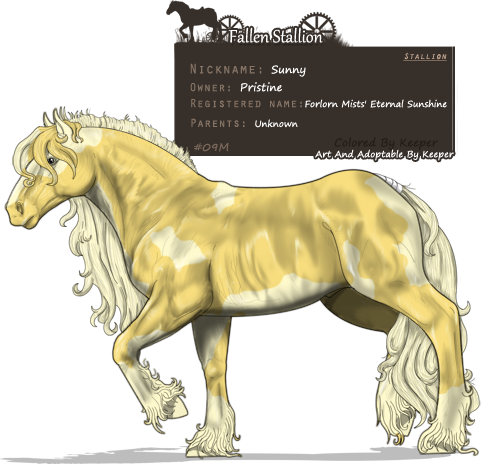 Forlorn Mists' Eternal Sunshine ("Sunny") is a semi-custom who was won in games during the Introduction weeks in August and September of 2011.
Sunny is a strong horse, a great listener, and about as laid-back as a stallion can get; he's patient with his handlers, wild animals, late dinner… everything. He's almost entirely unflappable, with the exception of his fear of thunder and lightning, which tends to cause him to turn tail and gallop back to his stalls.
Forlorn Mists' Annie Get Your Gun ("Annison") is the result of a breeding between Forlorn Mists' Eternal Sunshine and Destiny Hope's "Shotgun Annie", from October of 2011.
Annison is a much more adventurous horse than her father, interested in all sorts of new smells and sounds and always eager to approach them… sometimes eager even when she should be cautious. She can be patient when authority is around, but the moment you turn your head, she'll start trotting to the beat of her own drum.
Forlorn Mists' With Thy Violet Crown ("Athens") was won in a roleplay event in late September/early October 2011.
An older gent, Athens is a bit pokey and methodical, but extremely intelligent. He's prone to the occasional stiff joint and should be ridden with care because of it, but he's a quick learner and steadfast against spooking. He can be a bit self-centered and demands respect from his riders.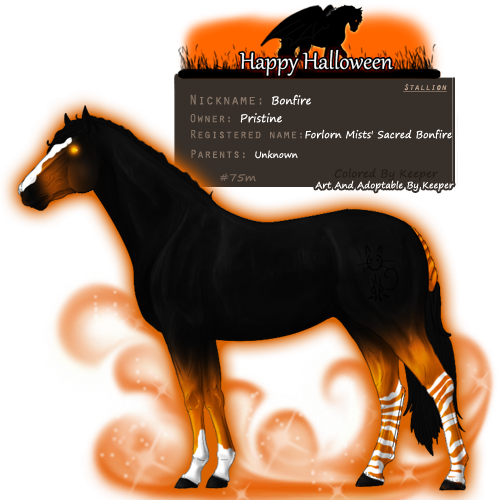 Forlorn Mists' Sacred Bonfire ("Bonfire") was won in the Fallen Stallion's Halloween event in October of 2011.
Bonfire is easily one of the most intelligent – and sneakiest – of Pristine's herd. His bright eyes are always on his surroundings, looking for the next thing he can buck, kick, or champ at, the next fence to knock over, the next herd-animal to scare, the next place to lay a freshly-made present… despite how he tends to get on her nerves, there aren't many who can run like he can. If Pristine needs a sprinter, he's her best bet, and he thankfully tends to misbehave less when loaded with tack.
---
---