Song of the Heart's Thaw
Song of the
Heart's
Thaw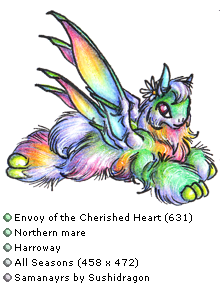 Lead Stallion: Music of the Passionate Heart
Lead Mare: Snow on Cherry Blossoms
Other Mares:
Envoy of the Cherished Heart
Song Status: Semi-Open
If you would like to join or breed with this song, please PM the owner of the Samanayr(s) on Pony Island.
—–
As soon as they saw each other, they knew – though they may not have shown it – that they were destined to be with one another. Their eyes met across the glade and – though she was shy, and he uncertain – they came to be near one another, and in each other's presence they found new happiness, and the Song of the Heart's Thaw.
---
---